About the Hangman Apartment Hanger
The Hangman Apartment Hanger consists of two aluminum interlocking brackets modeled after
the French Cleat featuring a built-in level which ensures an accurate installation.
The aircraft-grade aluminum brackets will not corrode and can be used indoors or outdoors.
The system uses small nails which leave pin size holes and a foam back to protect walls from scuffs and marks.
Once installed it can be adjusted left or right.
---
Check out this video! Apartment Hanger Demo
Specifications
Hardware Information
Offset 1/4" (7 mm.)
12" size holds up to 100 lbs.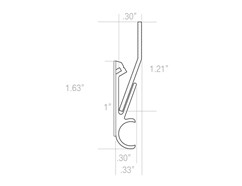 Check out some other popular items!