Gallery Rail Spindles
Shop here for the best selection and low low prices on USA made Gallery Spindles.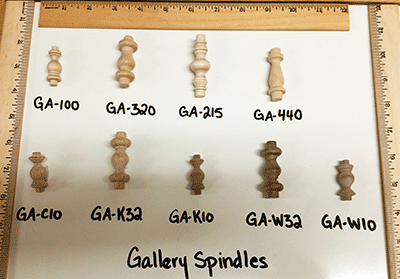 Bear Woods Customers keep coming back for these high quality gallery rail spindles in oak, maple, birch, walnut and cherry.
Looking for larger wood spindles? Click here for Furniture Size Hardwood Spindles
Spindles detailed below and pictured here are in stock and ready to ship. We can supply any of the pictured spindles in any of the wood species and many other hardwoods. Contact us for special orders on gallery spindles.