D-Ring Wire Strap Wood Picture Hangers
We carry one of the largest selections of strap picture and mirror hangers for wood frames in North America.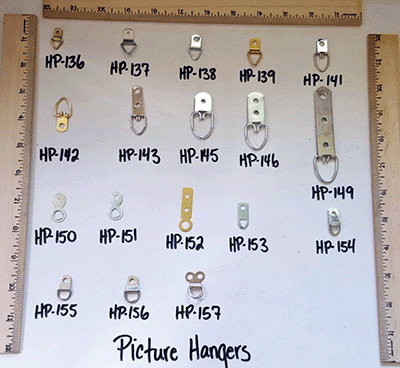 D-Ring Hangers:Our small D-ring picture hangers are made of steel and suitable for small frames.
Super Ring Hangers: Our Super Ring Hangers are small D-ring picture hangers, extra strong and nickel plated for an elegant polished finish.
Narrow Strap Hangers: Our Narrow Strap Picture Hangers are suitable for medium size picture frames
Wide Strap Hangers:Our Wide Strap Picture Hangers are well suited for your larger and heavier wood picture and mirror frames.
Browse and shop below for our extensive selection of Strap-hangers, and D-Ring Hangers. We are certain you will find our prices unbeatable!
Click Here for Ring-style Single Piece Steel Picture Hangers