D-Ring Wire Strap Style Steel Picture Hangers
We carry one of the largest selections of strap picture and mirror hangers for wood frames in North America.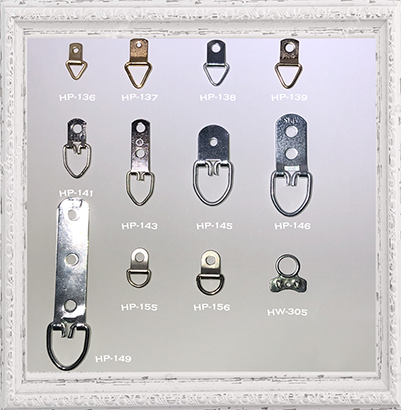 Browse and shop below for our extensive selection of Strap-hangers, and D-Ring Hangers. We are certain you will find our prices unbeatable!
Shopping Guide:
1) Types of Wire Strap Hangers:
D-Ring Hangers:Our small D-ring picture hangers are made of steel and suitable for small frames.

Super Ring Hangers: Our Super Ring Hangers are small D-ring picture hangers, extra strong and nickel plated for an elegant polished finish.
Narrow Strap Hangers: Our Narrow Strap Picture Hangers are suitable for medium size picture frames
Wide Strap Hangers:Our Wide Strap Picture Hangers are well suited for your larger and heavier wood picture and mirror frames.
2) Suggestions for screws and nails are made in the title of each product.
3) Bagged by 100 hangers. Buy more bags to get lower volume prices.
Click Here for Ring-style Single Piece Steel Picture Hangers