Little wooden people, pawns and peg dolls.
Great selection and low prices for Little Toy People, Little wooden men, women, boys, girls/angels and tots.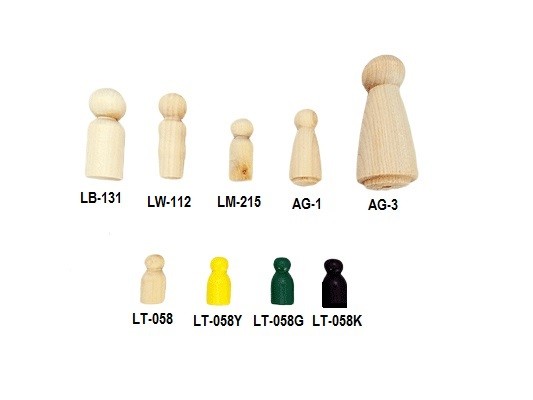 Shop here for the best selection of little wooden people.
Choose from Little Wood Man, Little Wood Woman, Little Tot and more. We also supply wooden game pawns, wooden angel dolls (also used as little wooden girl dolls), peg dolls and more in beautifully turned hardwood.
Smooth and ready to finish!
Wood Little Man 7/8" X 2-5/16" (Per 25)
Peg Dolls -- 2017-03-10 These little wooden pegs make adorable peg Dolls. The customer service at Bear Woods is just astounding.-- By Lindsay
Wood Boy 5/8" X 1-11/16" High (Per 25)
Lb131 -- 2014-04-21 A great mini accessory for my barn style bird house Also used as game piece for board game that my school teachers love, their students have a great time colouring them .-- By Gordon Davidson
Tot 5/8" x 1-3/16" High (Per 25)
Great ! -- 2015-01-21 Fast shipping, item is perfect !! Thanks-- By Julie Ouimet
Game Pawn - Yellow 5/8" x 1-3/16" (Per 25)
Game Pawns -- 12/26/2016 Exactly as described. Very nicely packaged with no damage. Product was perfect no defects. I would happily reorder again. Thank you.-- By Karen Evans
*
Check out some other popular items!