Fluted Wood Dowel Pins (Multi-groove) USA Made
Great selection of fluted dowels (multi-grove dowel pins) in stock and ready to ship at wholesale prices.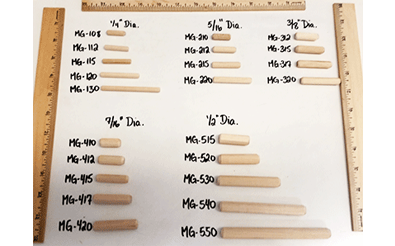 Made in the USA

- Our multigroove / fluted wood dowel pins are made of Birch and kiln-dried to 6 - 8% moisture.

Dowel pins are used across all types of wood working, cabinet making and more to create a strong connection. We are proud of the wooden dowel pin selection and incredible quality we offer to our customers.
Can't find a dowel pin you require? Contact us - we can probably find it for you at a fantastic wholesale price.
Also available - Spiral Groove Dowel Pins and Pre-Glued Dowel Pins - contact us for special pricing and order quantities.