Promotions and Coupons - Save Money On Great Products
Check down below for the latest deals and savings on Bear Woods products today!
---
Money Back Satisfaction Guarantee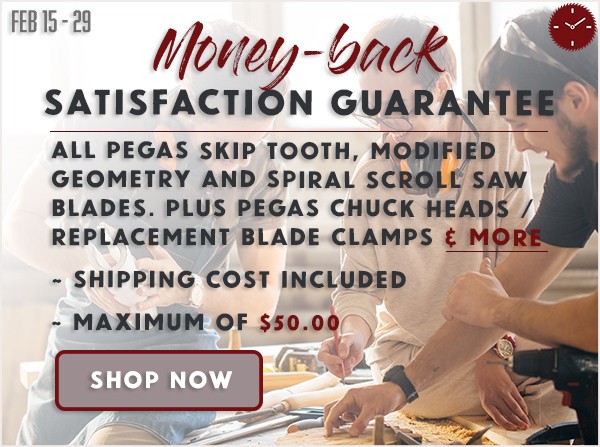 Products included:
All Pegas Skip Tooth, Modified Geometry and Spiral Scroll Saw Blades.
PLUS Pegas Chuck Heads/Replacement Blade Clamps.
PLUS all Mascot Drill Bits and Drill Chuck Adapters.
PLUS 3M Vetrap and 3M Sanding HandPads.
Minimum order of $10.00 worth of eligible products. Maximum refund of $50.00.
How to be Eligible for Money Back
1) Contact us before the end of February 2020.
2) We will recommend a charity and ask you to mail the products to them.
This way the items get used regardless and for a great cause. (See some of our charities at Bear Woods Gives)
3) Once you send us proof that you have sent the items (such as by sending us a picture of a USPS receipt or a tracking number), we'll refund the purchase price of the eligible products, up to a maximum of $50 AND we will refund your shipping price up to a maximum of $10. To qualify for this offer, a $10 Minimum purchase of eligible products required.


See Below - The Typical Return Policy
1) Ordering from Bear Woods is worry-free. You must be satisfied with your purchase. You may return any stock item, except books, plans, custom order items or clearance/sale/close-out items in original condition and packaging within 30 days of the invoice date. We will issue a prompt and courteous refund or credit as you request. It's that simple. Customers are asked to inspect all packages and goods at time of receipt. Any damage or indication of damage must be made known to us right away - if a box appears damaged, or any goods are damaged, please save all packaging material as we may ask for photos.
2) To send product back, please contact us so we can provide you an address that works best and so we can provide a return authorization and/or discuss options - we will often ask for photos of the defective product, and can offer partial refunds or send you a replacement as appropriate. Opened packages will be subject to a restocking fee of 10-20% unless a product is defective. We will only refund shipping if there is a defect. If you do not contact us in advance, we cannot guarantee a refund.
3) Returned items must be received in new and unused condition in original packaging. Products returned outside of original packaging will be subject to a restocking fee. Special order, discontinued and final clearance items may not be returned without specific authorization.
4) For wooden products, we will issue refunds on a case by case basis, based on a review of photos and relevant discussions. When more than 2% of a product purchased is deemed unacceptable or missing, we will offer a credit/refund and will do so after a review of photos or of the returned merchandise. Rates of unacceptability or missing quantities that are less than 2% will be discussed on a case by case basis.
5) Custom or Special Order items can only be returned for defects in workmanship only. Before sending a return, contact us for options and to ensure the most economical shipping is utilized - we may also suggest partial refunds or replacements, rather than a return.
6) Further details on our return policies: All returns require a Returned Merchandise Authorization Number (RMA#) and the address to return the items to. Our Customer Service Department must be contacted to obtain the correct RMA# for return shipments. At the time of contact, our customer service department will assist as best we can to avoid the need for a return of the product.
The assignment of an RMA# does not automatically assure a credit will be issued. All returns must show the Return Authorization Number on the outside of the packaging and on any related correspondence. Items must be returned within 30 days of the invoice date.
Unless otherwise noted in our RMA (Returned Merchandise Authorization), all returns must be shipped to us via Postal Service. Shipment must be prepaid as we do not accept freight collect shipments.
All parcels containing returned merchandise must without exception be clearly marked return of unsatisfactory goods on the parcel's address side along with the RMA # ('returned merchandise authorization' number) to assist us in identifying the parcel, its contents, and the reason the goods are being returned. The Customs Declaration label must also be marked the return of unsatisfactory goods. Unless otherwise noted on your RMA authorization returns should be addressed as follows:
Returned items must be returned, freight prepaid. If a return is due to our error we will reimburse you for shipping if shipped as per our written return authorization instructions via e-mail or fax. The customer is responsible for insurance and delivery confirmation in case of loss or damage. Refunds are issued to the original account and payment method. International customers can make returns, but we will not refund shipping.
Available Coupons