Mushroom Head Wood Plugs - (AKA Screw hole Button Plugs)
Shop the best selection available in Canada of Mushroom Button Plugs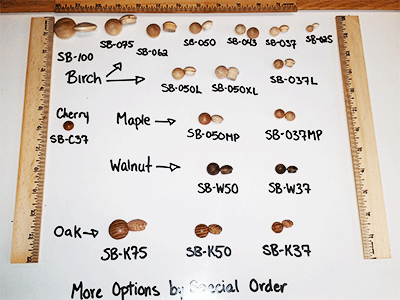 Wood mushroom button plugs available for immediate shipment: Birch, Maple, Oak, Walnut and Cherry Mushroom Plugs (also known as screw hole buttons or wood mushroom caps).
We stock birch screw hole buttons caps in Long and Extra Long lengths. (Denoted by L and XL after the SKU)
!! Tip - Mushroom button plugs sold by the 100 count are In Stock, Ready to Ship.
Special Order - Scroll below for a selection of wood mushroom plugs in Ash, Hickory, Beech, Mahogany and more.
* Images used demonstrate shape of plug but may not be of actual size or species.
* Special Orders generally require an order of 5000 pieces, but contact us and we will see if we can help.
Want a size or wood species of wood plug but can't find it on our page? Chances are we can have it made for you. Just inquire.