Pegas Scroll Saw - 21 Inch with Raising Arm and the Pegas Blade Clamps
21″ Throat Depth, Upper Arm Raises, Proven Motor and Linkage. PLUS the game-changing Pegas Chuck Head that has helped so many saws improve.
Pegas®​ Scroll Saws are high-precision tools, which with a minimum amount of maintenance, will provide reliable service and great satisfaction for many years. This scroll saw is developed in Switzerland - made in Taiwan to the rigorous specifications and quality requirements of Pegas. Note: We're working on lowering the shipping rates so you may get a refund, but we also may have to charge a bit more depending on your location. Generally we see some locations getting refunds of up to $20, and others we ask for a bit more (up to around $20). Notably, there is an exception for outside continental USA which costs more. This product will ship within three business days of placing your order. Please note, we are not open on holidays or weekends.
Add the Pegas Foot Switch to your Scroll Saw Order for $33.50
Or Click Here to Learn about the Foot Switch

Add the Stand made specifically for the Pegas Scroll Saw 21 Inch for $82
Or Click Here to Read about the Stand.

Add the fluorescent Inspection Lamp for $74 or Click here to Read about the
Inspection Lamp with adjustable viewing arm.
Add the LED Inspection Lamp for $107 or Click here to Read about the
Inspection Lamp with adjustable viewing arm.

Add the Beginner's Sample Pack with 17 dozen blades for $54.95

Add the Bestsellers Sample Pack with 24 dozen for $77.95 or
Pegas®​ Scroll Saws Offer Many Valuable Benefits
A. The head can be tilted by 45° to left or right. The blade tilts rather than the table to achieve:
better control of the workpiece

higher precision

maximum comfort & convenience
B. The upper arm lifts to allow easy and rapid blade changes: a real advantage for work involving various interior cuts - this makes threading blades a whole lot easier!
C. Very Quick Blade Changing Thanks To the PEGAS BLADE CLAMPS. The manual blade-clamping system does not require the use of a tool. . Meanwhile the tensioning system allows
the same tension to be applied to the blade whenever it is changed.
D. Easy access to the start/stop switch and the speed regulator, positioned on the front of the upper arm.
E. The onboard dust blower paired with the dust collector provide direct and efficient dust extraction.
Excerpt from the review by Bob Duncan of Scroll Saw Woodworking and Crafts Magazine: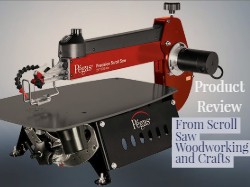 "The first branded Pégas Scroll Saw to hit the market does so with a bang, combining Swiss engineering with a proven design to set a new standard for higher-priced saws.
These new units, made in the same factory as Excalibur saws (as well as Jet, King, Seyco, and a few brands sold in other countries), match the quality of those popular saws but include a key upgrade: they come with the revolutionary Pégas Blade Chuck Heads pre-installed.
Like Excalibur saws, the Pégas features a tilting arm controlled by a rack and pinion system that allows you to dial in an angle quickly and accurately. It also has a spring-loaded locating pin and matching holes for common angles, such as 0°, 45°, and 221/2°, to make it even easier to orient the arm. (Follow the instructions in the owner's manual to check these angles when you get your saw; after I squared my blade to the table, I had to adjust the angle guide and locating pin to zero it in.) And conveniently, Pégas put the power switch and speed control at the front of the saw arm.
Most importantly, however, Pégas pre-installed their Blade Chuck Heads on the saw. This upgrade, a $90 value, reduces vibration noticeably and holds blades super-securely—incredibly, we put them on our shop saws nearly a year ago and have not had a single blade slip out of place since. (See our review of them at scrollsawer.com/2019/09/07/product-review-pegas-blade-chuck-heads/.)
Read the full review Review from Bob at Scroll Saw Woodworking and Crafts