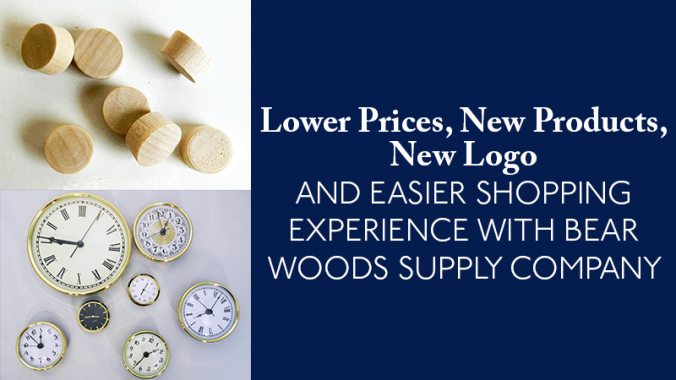 If you are looking for woodworking supplies or clock parts, Bear Woods Supply Company has the items you need. If you have shopped with us in the past, now may be the perfect time to come back and revisit us. We have made a lot of changes to improve the experience for you, our customer. Here are a few of the changes that we have recently made.
New Lower Pricing
We have lowered prices on dozens of popular items to make it more affordable for you to obtain the woodworking supplies and clock parts that you need. Some of the specific products that we have reduced prices on include wood plugs, wood mushroom button caps, and USA made wooden dowel rods. In fact, we are so confident our prices are low, we offer a low price guarantee for our USA-made wood plugs and wood mushroom button caps.
An Easier Online Shopping Experience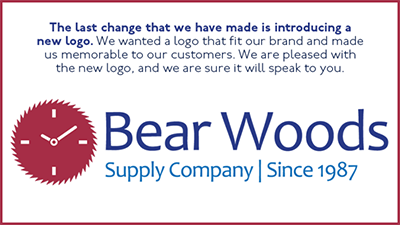 We want to ensure that our online store is easy for our customers to navigate. You should be able to find what you need and check out as quickly and easily as possible when shopping online. To help make this a reality, we have improved the layout and design of our webpage, making for an easier online shopping experience. We invite you to shop today! Any feedback? We'd love to hear from you.
New Products
We want you to be able to find our new products easily. At the top left corner of every page you will see a link to our Newest Products.We have recently added several dozen new variations of clock inserts.
Making larger clocks? we have continued to add High Torque Movement options, with upgrades to C-Cell and Continuous Sweep (SILENT) High Torque Movements now available.
A New Logo
Lastly, we are excited to present our new logo. We wanted to bring to our customers a logo that fits our brand and works to become memorable to you. We are pleased with the new logo, and hope it brings with it, the guarantee of receiving quality products and service.
At Bear Woods Supply Company, we have been in the business of providing people just like you with woodworking supplies and clock parts since 1987, and we hope to continue to do so for decades into the future. We invite you to come check out the changes we have made and shop with us today. When you spend over $25 on our website, enter code SAVE5 on the checkout page for five percent off of your order.